AVer PTC115+
Thích
Mua
AVer PTC115+
Hãng Sản Xuất :
AVer
Mã Sản Phẩm :
PTC115+
Specifications
Image sensor

Effective Picture Elements
Output Resolutions

Auto, 1080p/60, 1080p/50, 1080p/30, 1080i/60, 1080i/50, 720p/60

Minimum Illumination

0.47 Lux (IRE50, F1.6, 60fps); 0.23 Lux (IRE50, F1.6, 30fps)
TV Line

900 (Center), 600 (Corner)

Shutter Speed
Exposure Control

Auto, Manual, Priority AE (Shutter, IRIS)

White Balance
Optical Zoom

Digital Zoom
Sensor Zoom

Viewing Angles

DFOV : 73° (Wide) to 4.9° (Tele)
HFOV : 65° (Wide) to 4.3° (Tele)
VFOV : 38° (Wide) to 2.4° (Tele)
Focal length

f = 4.3 mm (Wide) to 64.5 mm (Tele)

Aperture (Iris)

F = 1.6 (Wide) to 4.2 (Tele)
Minimum Working Distance

0.1 m (Wide), 1.2 m (Tele)

Pan / Tilt Angles

Pan: ±175°
Tilt: +90°/-30°
Pan / Tilt Speed (Manual)

Pan: 2° to 50°/sec
Tilt: 2° to 50°/sec

Preset Speed

Pan: 160°/sec
Tilt: 160°/sec
Preset Positions

Camera Control - Interfaces
Camera Control - Protocols

VISCA (RS-232/IP)
PELCO-D & PELCO-P (RS-232)
CGI (IP)

Image Processing
Panoramic Camera (Full View)
Image Sensor

1/2.8" 60fps low lux CMOS sensor

Effective Picture Elements
Output Resolutions

auto, 1080p/60, 1080p/30, 720p/60

Focal Length
White Balance

Exposure Control
Viewing Angles

DFOV = 120°
HFOV = 110°
VFOV = 74°
AI Auto Tracking Functions
Channels

1ch Mono (RTSP)
2ch Stereo (HDMI/UAC)

Codecs
Video Outputs

Audio Outputs
Power Requirement

Power Consumption
PoE

Dimensions (W x H x D)
Remote Control

Operating Conditions

Temperature: 0°C to 40°C
Humidity: 20% to 80%
Storage Conditions

Temperature: -20°C to 60°C
Humidity: 20% to 95%
Resolution

1080p 60fps (Dual Stream)

Network Video Compress Formats
Maximum Frame Rate

1080p 60fps (Dual Stream)

Bit-Rate Control Modes
Bit-Rate Range Setting

Network Interface
Multi-stream Capability

3 (2 for RTSP, 1 for Web Page)
1080p 60fps (max.)

Network Protocols

IPv4, TCP, UDP, ARP, ICMP, IGMP, HTTP, DHCP, RTP/RTCP, RTSP, RTMP, VISCA Over IP, ONVIF
Maximum Video Resolution

USB Video Class
Live Video Preview

Camera PTZ Control

Pan, Tilt, Zoom, Focus, Preset Control
Camera/Image Adjustment

Exposure, White Balance, Picture

Network Configuration

DHCP, IP Address, Gateway, Subnet Mask, DNS
IP Search and Configuration Tool

Supports Windows® 7 or later

PTZ Management

Supports Windows® 7 or later
PTZ Control Panel

Supports iPadOS® 11 or later

CaptureShare

Supports Windows® 7 or later
Supports macOS® 10.14 or later
Package Contents

Remote Control
Power Adapter
Power Cord
Quick Start Guide

Optional Accessories

AVer CL01 PTZ Camera Controller
L-Type Wall Mount
D-Type Ceiling Mount
Liên hệ
PTC115+  Make Tracking More Intelligent
PTC115+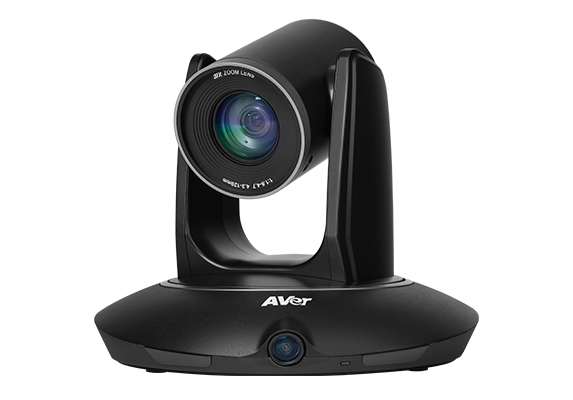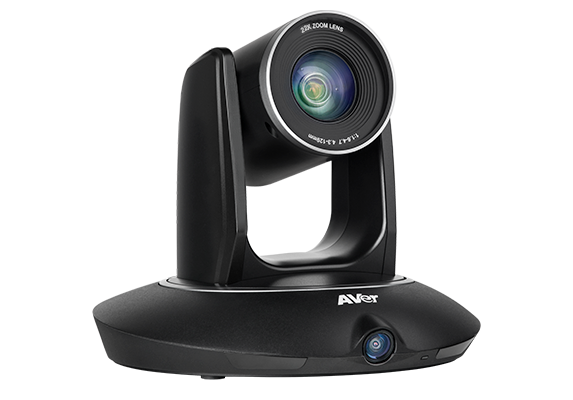 Dual Lens Auto Tracking Camera
The PTC115+ equips 15X optical zoom and 120° panoramic FOV that provides full HD 1080p video resolution. With accurate 3 auto tracking modes and multi-presenter detection, the PTC115+ captures every unique moment.
Perfectly suited to meet the needs of governmental institutions, educational organizations, and enterprises, the PTC115+ is the affordable solution for courses and lectures, keynote speeches, and employee trainings. Share more with your audience through real-time streaming; with no operator required and easy-to-use user interface, you can reduce costs and achieve limitless distance learning.
15X Optical Zoom

120° FOV

Wide Area Tracking

Multi-Presenter Detection

USB / IP / HDMI / 3G-SDI

Full HD 1080p
USB Connectivity Rocks!
Are you ready to experience plug-and-play video streaming? New USB connectivity for the PTC115+ allows you to shift from audience mode to presenter mode during a video conferencing session. Also, unparalleled UVC and UAC protocols make these cameras compatible with popular streaming and broadcasting software so you can go live anytime. (Download AVer's CaptureShare!)
Up to 15X Optical Zoom
Featuring a PTZ camera with a 15X optical zoom, the PTC115+ sports a 350° pan and 120° tilt radius that are ideal for classrooms or meeting spaces. Precisely track the moving presenter and distinctly display important details with full HD 1080p 60fps video and a powerful remote autofocus function. Capture the full classroom experience with the most realistic and dynamic image quality.
No Extra Devices Needed
Exclusive algorithms enable the PTC115+ to automatically track a presenter's face and movements. Speakers are free to walk around the classroom without wearing any accessories to give guidance and solve problems for students, ensuring a quality education. Without need to worry about the connection restrictions, charging security, or added expense of a wearable device, you can focus on easily building zero-distance interactive teaching.
Dual Lens Design
The dual lens design integrates a PTZ camera with a super-wide 120° FOV secondary camera to track the speaker and capture a panoramic view of the classroom at the same time. Also, enable and adjust PIP mode while capturing to simultaneously view the speaker and the rest of the classroom. Clearly present every detail, and never miss a teachable moment.
Multi-Presenter Detection
Industry leading Multi-Presenter Detection accurately helps when there are two or more people in the camera's effective area. This feature allows the camera to continue tracking when teachers conduct group discussions, interactive games, and more in front of the class. Use one camera to capture every detail of every learning situation.
Wide Area Tracking
With advanced targeting algorithms, the PTC115+'s Wide Area Tracking follows your target everywhere via extremely accurate tracking that is widely recognized as a market performance leader. Your target can freely leave the stage and interact with crowds or students while being continuously captured, even if obscured by people or objects. The PTC115+ helps you to capture every brilliant moment.
Sản Phẩm Liên Quan